Reunion Weekend 2016 has come and gone. Each year I am amazed at how University staff and extraordinary volunteers come together to create a special weekend for all of the alumni who return home.  This year's celebration included nearly 2,300 guests, more than 100 events, 175 alumni volunteers, and too many laughs and hugs to count. The Alumni Association had the opportunity to recognize four distinguished alumni,Yoshi Maisami '01, Amy Rowe Klement '96, Guy Williams '76, and Bentley Elliott '66, for their achievements and loyalty to Bucknell. The University also conferred its most significant honor, the Stephen W. Taylor Medal, to Alan Walker '66, upon recommendation by the president and Board of Trustees.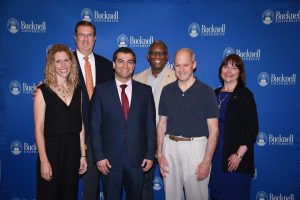 Campus was also busy throughout the 2015-16 school year.  Bucknell welcomed Barbara Altmann as its new provost, celebrated the Board of Trustees' approval to create a College of Management, and appointed Patrick Mather as the new dean of the College of Engineering. Former dean, Keith Buffington, will continue to share his expertise by rejoining the engineering faculty.
Reunion marked a changing of the guard with the leadership of the Alumni Board and the final meeting of many long-tenured board members completing their terms of service. These folks were part of a remarkable period for the BUAA and we are so grateful for the time, leadership and dedication they shared with the Alumni Association and Bucknell.
Few people know the amount of time that is required to be the President of the Alumni Association, and only one knows the commitment required to do so from California, Melissa Plaisance `82 P'13.  Melissa's commitment was nothing short of extraordinary. She attended just about every meeting over the course of her nine years on the board (twenty-seven trips back to Lewisburg!) and was constantly engaged, guiding the board with a vision for the future. On behalf of the entire University, we extend our thanks for her distinguished service. (meet current BUAA Alumni Board members)
Finally, please join me in officially welcoming Tara Garrity Lebda '94 as the next Alumni Board President. While her term begins July 1, she has been a passionate advocate for Bucknell for many years. The board is excited for the path forward under her leadership. Congratulations, Tara!
`ray Bucknell!
Josh Grill
Executive Director, Alumni Relations