Are you proud to wear your Orange and Blue? We hope so! Now you have even more reason to pull out your favorite Bucknell attire. The Bucknell University Alumni Association (BUAA) is launching a new initiative called
#BucknellNation to build spirit and a sense of community.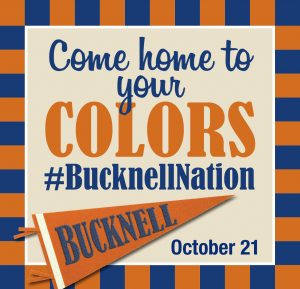 On Friday, October 21, the kickoff day of Homecoming Weekend, Bucknellians around the globe are encouraged to show their passion for their alma mater by wearing Bucknell colors, showing off their Bucknell inspired office, or dressing up their children – and pets – Bucknell style. It's a great way for the whole Bucknell family – alumni, parents, and students – to build connections with each other and with the University, whether or not they are able to celebrate Homecoming by coming back to campus or wherever they live and work. Simply snap a pic and post on social using #BucknellNation and you'll be entered to win a tailgate prize. Share the Bucknell love…we are #BucknellNation.
'ray Bucknell!
Kimberly Wilson Wetty '93
---
A committee will select the most festive and creative photo to win a Bucknell-themed tailgate prize. Not on social media? Submit your photo to alumni@bucknell.edu. The winner to be announced Oct. 22.