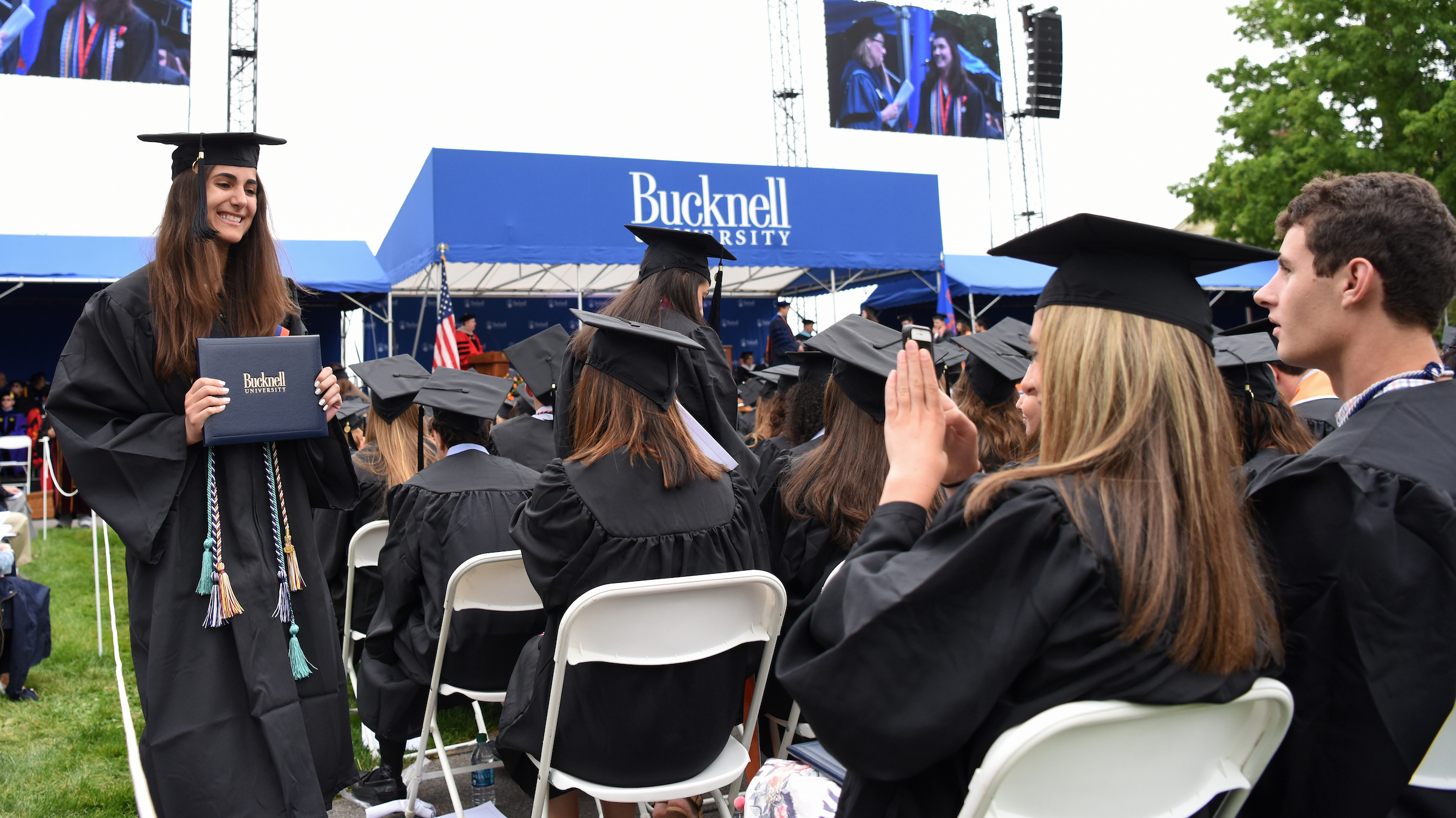 Growing up in Los Angeles and attending a sizable public school with ocean views, Bucknell, with its rural location and small student body, seemed like a worlds away. I had a hard time picturing myself as a Bucknellian—when I first visited Lewisburg during Accepted Students Weekend, I had given little thought to enrolling for the fall. I spent the day listening to the School of Management faculty speak about the curriculum, touring the beautiful campus, and chatting lightly with students and parent board members. It wasn't until after speaking one-on-one with a BUAA board member, Todd Singer '91, following an alumni panel that I was sold. He told me about his path both through and after his time at Bucknell, iterated the importance of a tight-knit alumni base, and spared my mom and I the embarrassment that would have ensued had he not corrected us that it was in fact "orange and blue," not "blue and orange." Just a few months later, I was packing my bags, ready to move cross-country to Pennsylvania. In this way, the BUAA began to shape my Bucknell career before I was even officially a Bucknellian.
I found myself working with the BUAA again exactly one year later. By then, I was nearly finished with my freshman year, and I was beginning to find my niche on campus. As the presentation director of The Bucknellian, I was overseeing all of the layout editors, as well as all design elements included in online and print media. My position meant I also had the responsibility of piecing together the Reunion Weekend edition of The Bucknellian, a special edition the paper creates in conjunction with the BUAA.
By the time the next year came around, I was a student member of the BUAA's communications team, and this time, I worked on the Reunion issue as editor-in-chief of The Bucknellian. Raj Thangavelu '98 and I streamlined the article collection and editing processes, and I worked with Deb Rizzi '94 to create a more concrete style guide. It was incredible to watch how quickly the process had developed and the issue had grown. And just a few days after submitting my second Reunion Weekend issue to print, I was headed back to Los Angeles to start my internship with the Los Angeles Times, a role I found through the guidance of BUAA member Michael Kraus '94 who reached out to me when I joined. We were two of the few Los Angeles-based board members, and his mentorship had an immediate impact in helping me identify a professional niche. At the L.A. Times, I had the opportunity to dive into an amalgamation of my two passions, media and business, for the first time.
Just a few months ago, I left the Alumni House after my final meeting with Raj, and Bucknell staff members Chris Watters and Jamie Donahue. With my fourth and final Reunion Weekend issue complete and my time at Bucknell coming to a close, it was time to switch gears and focus on what was ahead. (Read the 2017 Reunion Weekend edition of The Bucknellian here.)
Today, I am an associate at The Foundry, a subset of Time, Inc. that functions as the company's creative lab and content studio. Here, I found the marriage of media and business that I had craved early on in my undergraduate—one that was cemented during my summer at the Los Angeles Times and further developed through my experiences in publications and communications on campus and through the BUAA. The board has been with me through every step of this journey, from convincing me that Bucknell was the perfect fit, to giving me ownership over an annual publication and providing me with the guidance and resources necessary to leverage my passions professionally.
The Class of 2021 is just beginning their journey as Bucknellians, participating in Orientation while the upperclassmen slowly file into their dorms, gateways and downtown houses. And while I won't be headed back to Lewisburg this year, I left having experienced firsthand the substantial impact a brief encounter with a past Bucknellian or the support of an alumni mentor or two can have on someone's trajectory; I left excited to join those who so greatly impacted me in continuing to engage with Bucknellians past, present and future.
-Avid Khorramian '17
Want to learn more about the Bucknell University Alumni Association? Visit our website.