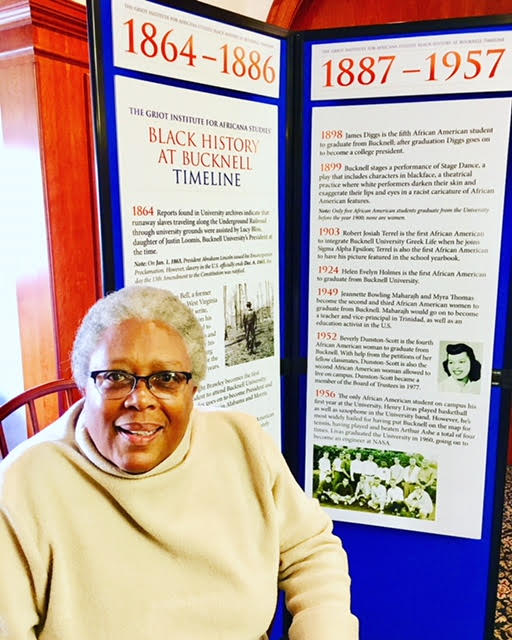 During Homecoming Weekend, Bucknell's Black Alumni Association (BBAA) hosted its first annual Brawley Brunch, during which a Bucknellian or member of the Bucknell faculty will be honored for their service.
This year's celebration was an intimate gathering honoring former Bucknell Professor, Leslie Patrick, and the many contributions she made to the University's history department as well as the cultivation of spaces on campus where black history could be examined and explored.
There was no formal program at this year's event, which was attended by representatives from the Office of Alumni Relations, a small group of Bucknell alumni and students from the Black Student Union.
After Saturday's program, the BBAA posted pictures from the event on the group's Instagram page, asking current students and alumni to share their memories of Professor Patrick using the hashtag #thanksLP.
Doneeca Thurston '12 wrote: "#thanksLP for being my mentor, my confidant and my all-time favorite Professor while at @bucknellu."
Another former student, Lillian Drumgold '06, shared: "I had dinner at her home …one of the best experiences of my time at BU"
And Lebo Letsie '12 said; "#thanksLP for ensuring that black history and black students at Bucknell are never forgotten. Thank you for being a great professor, mentor and for those warm hugs…"
Professor Patrick received her Ph.D. from the University of California, Santa Cruz in 1989. She was a member of the history faculty at Bucknell University where she specialized in African-American and nineteenth-century American social history. She is the author of "'Numbers That Are Not New': African-Americans in the Country's First Prison, 1790-1835," which appeared in The Pennsylvania Magazine of History and Biography in 1995. (The Pennsylvania Historical Association)