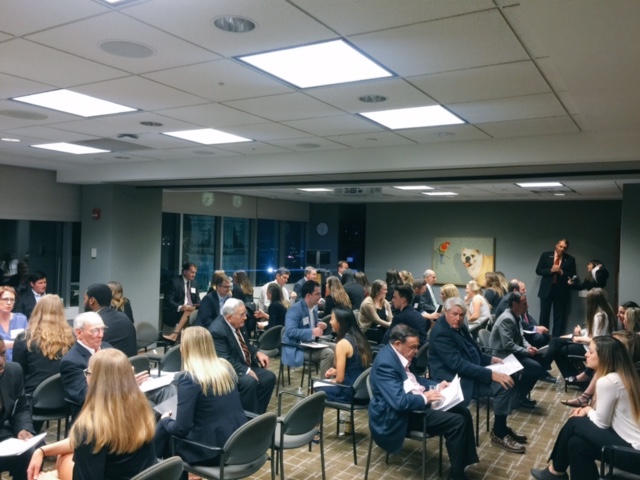 On November 13th, 45-50 sophomore, junior and senior athletes traveled to Philadelphia to meet up with 25 alumni athletes. Hosted by Bill Graham '62, the event was broken up into a "Speed Interviewing" segment followed by a general networking session.
The Speed Interviewing was designed to assist students in their preparation and presentation for securing employment for summer and full-time positions. After all alumni had a chance to introduce themselves and their backgrounds, students were paired up with an alum for 5-7 minutes and were asked to respond to a common interview question. Following their answers, alumni offered comments and constructive suggestions for becoming more polished candidates. Similar to speed dating, athletes rotated seats after each question to interact with different alumni. At the end of the interviewing cycle, students had the chance to put alumni in the hot seat with a question.
"The Networking event hosted by the Student Athlete Leadership Institute is the perfect example of how committed Bucknell is to helping their students find success beyond the world of Bucknell," replied Callie DeWitt '19, a member of the women's lacrosse team and second-time attendee, when asked for her feedback on the event.
The networking idea is the brainchild of Lauren Wicklund, Associate Athletic Director for Leadership Development. Lauren arrived in Lewisburg in 2016 after three years in a similar capacity at Rice University in Houston, Texas. While at Rice, she developed the Speed Interviewing event. Lauren is thrilled with how the first three events have gone. "Our student-athletes have tremendous success in their sports and the classroom and these events help them learn how to sell their experience in an interview and recognize the lifelong tools sports have provided them."
Following the Speed Interviewing, the latter half of the evening was reserved for open networking to allow participants to seek out others in their areas of interest and experience. "This event is a great opportunity to interact with a promising group of young professionals and a chance to compare notes on the Bucknell athletic experience. The structure of the evening makes it less intimidating to approach alumni in their prospective line of business," said one alum.
John Lawton '90, a former wrestler, noted, "The alumni athlete/student athlete networking events are a tremendous way for the alumni to give back to the current student athlete. It truly shows the student athlete that their efforts in the classroom and on the field really do pay off when looking at the success of the Bucknell alumni. I have participated in two of these events in Philadelphia and have walked away completely impressed with the student athletes and the skills and leadership that they possess."
Miss DeWitt and her twin sister, Jamie '19, agreed. "All of the alumni are so committed to helping Bucknell students, but with our busy athletic schedules, creating these connections as current students can be challenging. The networking event set up by the Student Athlete Leadership Institute provided an easy forum for us to connect with alumni, ask them questions, and learn from their experiences and career advice.  From the perspective of a current Bucknellian, this event takes a lot of the pressure off of the internship and job search experience.  Interviewing is not easy and the alumni gave us great advice on how to improve the way we interact in an interview and how we can construct our responses in the best way possible."
Lauren is working diligently to finalize details for the next Alumni/Student Networking event this spring. If you are interested participating in a future event, please let Lauren know by contacting her here.