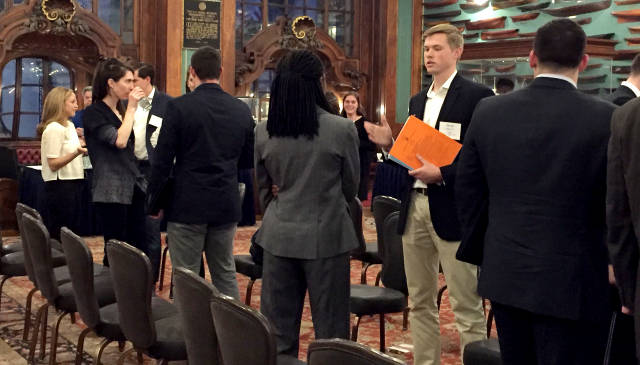 The Networking event hosted by the Student Athlete Leadership Institute is the perfect example of how committed Bucknell is to helping their students find success beyond the world of Bucknell. As a Patriot League School, Bucknell athletes compete at the highest athletic and academic levels, providing students with a well-rounded and highly acclaimed college experience.  These students have become highly desired in the work force resulting in a web of successful Bucknell Student Athlete Alumni.
All of the Alumni are so committed to helping other Bucknell students, but with our busy athletic schedules, creating these connections as current students can be challenging. The networking event organized by the Student Athlete Leadership Institute provided an easy forum for us to connect with alumni, ask them questions, and learn from their experiences and career advice.  From the perspective of a current Bucknell student, this event takes a lot of the pressure off of the internship and job search experience.  Interviewing is not easy, but the alumni gave us great advice on how to improve the way we interact in an interview and how we can construct our responses in the best way possible.
We not only developed our interviewing skills but we also gained life advice from people who once walked in our shoes.  This event gave us the tools to become successful post-graduation, and instilled us with confidence and pride in our education and ourselves. It was so amazing to make such great connections and be able to reach out to alumni after the event for further mentoring and networking.  We are so impressed with the Athlete Leadership Institute and all it has been able to offer us. We are very proud to be Bucknellians.