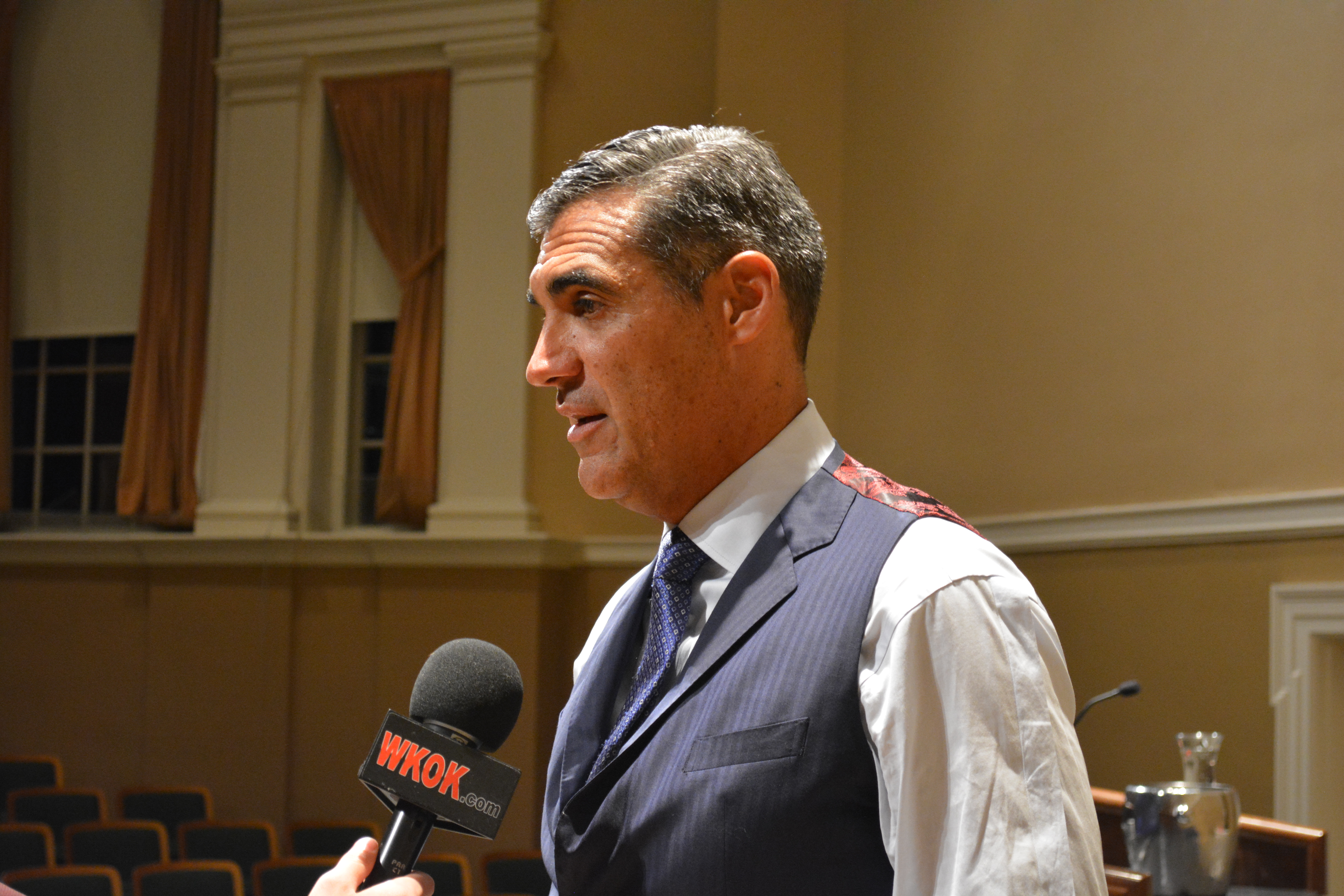 Each year, the Bucknell University Alumni Association creates a special edition of The Bucknellian newspaper exclusively for Reunion Weekend.  All alumni celebrating their reunion year are invited to share stories and reflections of their Bucknell experience and where it's taken them today.  This year, 21 alumni authors volunteered their time and memories to write an article for the 2018 Reunion edition. We're pleased to bring you a sampling of articles in this four-part series.
An interview with Jay Wright '83: Head coach of Villanova Basketball
By Raj Thangavelu, Class of 1998
Jay Wright '83 is the head coach of the Villanova Wildcats, both 2016 and 2018 National Champions. Coach Wright has led his team to great success over the years and though he was in the middle of the season, took the time to answer a few questions about his time at Bucknell, coaching and the state of basketball itself.
What led you to playing at Bucknell?
Growing up in Philadelphia I was familiar with Bucknell from seeing them play Temple and LaSalle and was impressed with seeing them in person. After my recruiting started, I was contacted by Coach Woolum and then saw Bucknell take a nationally ranked Temple team to the wire in a one-point loss that made a huge impression on me. After that, I visited the school and chose to play there.
What was your favorite moment playing at Bucknell?
We once played at nationally ranked Virginia. Virginia was led by Ralph Sampson [Sampson was the #1 pick of the 1983 NBA Draft], midway through the game Ray Moss reverse dunked on Sampson and I still remember the shocked look on everyone's face on the court and in the stands. Years later, I asked Sampson if he remembered that, and he said that he remembered winning the game.
What was your favorite non-basketball moment?
As a double major in economics and sociology, my favorite moments were attending the classes taught by Professor Moohr in Economics and Professors Silberman and Quinlan in the sociology department. I still use things today that I learned in their classes.
During my time and I think to this day, most Bucknellians feel like our biggest basketball rival is Lehigh, who was your biggest rival?
For us, our biggest rival was Lafayette.
As a senior, what were your feelings after your last game?
I had mixed feelings; in one way, I could not believe that I am not going to play anymore. However, it had been a long time and I was excited to see what direction my life was going to take.
As a coach, what was the best game you have ever been a part of (excluding national championships)? In 2009, we advanced to my first final four by beating (then) conference rival Pittsburgh 78 to 76 when Scottie Reynolds hit a shot at the buzzer. The game was played in Boston so we had a large contingent of fans in the stands.
As a fan, what is the best game you have ever seen?
There are actually two. The first is the 1985 national championship game won by Villanova over Georgetown [still the lowest seeded team to ever win the national championship] and of course, the 2005 Bucknell win over Kansas in the tournament. We had finished playing New Mexico in our tournament game in Nashville and I had planned to go back to the hotel and watch game film for our next game, but I ended up watching the Bison play instead.
In terms of recruiting, do you look for specific players or more towards a good fit with your system?
We look for talented players who will fit our culture. Villanova's culture is a lot more similar with Bucknell than Kentucky. We look for players who be able to make a commitment not just to basketball but also to their fellow classmates and the community.
When you first started coaching you probably never thought that you would be bringing a team of yours back to Bucknell to play the Bison. What were your feelings as you came back to campus with the Wildcats?
I was proud to bring my team to play at Sojka; though it was a strange feeling being a visitor and using the visiting locker room. I thought it was hysterical that the student section was holding up my picture from my senior year and my team loved that.
Pretty much everyone thinks the 1992 regional final between Duke and Kentucky is the greatest basketball game of all time and they all remember the shot hit by Christian Laettner at the buzzer. What most people do not remember is that Kentucky did not guard the inbounds pass, leaving Grant Hill a wide-open view to throw the ball the length of the court to Laettner. Would you have guarded the inbounds pass?
It really depends on what skill sets I have on my roster. You need someone who is really athletic and long; however, if you only have one that person has to guard Laettner. Only if you have a second can you put someone on the inbounds pass.
In the 2016 National Championship, UNC tied the game with six seconds left. You then called a timeout. How was the final play drawn up; was it drawn up then or beforehand?
We have three plays in end of game situations; one for four seconds or less, one for four to second seconds and another for seven seconds or more. As there were six seconds left, the players knew exactly what to do and we had been practicing it since the beginning of the season.
The Big East Conference went through a massive realignment a few years ago; how do you feel about that?
I am always going to miss the old Big East, which was very special. However, I am amazed at how successful the new Big East has been in a short time. With 50 to 60 percent of the teams making the NCAA Tournament every year it has been very competitive.
Growing up my favorite player was Hakeem Olajuwon. These days you do not see a traditional center any more. Why is that?
Great centers of the past, like Hakeem, could do three things well. They could shoot, pass and make their free throws. They would play with their back to the basket. These days it is very hard to find someone who can do all three things well. Additionally, the three-point line has forced big men to play facing the basket for rebounding.
I have been coaching kids ages 9 to 11 for the past ten years; if you were coaching kids that age, what would you teach them?
The two things I would focus on are shooting and footwork. Making sure they have the proper mechanics for shooting; be ready to shoot the ball when you catch a pass. I believe you are never as open as you are when you catch the ball. In terms of footwork; how to pivot and create space.
Rarely have we seen you lose your cool during games; what has been your strategy with dealing with officials?
I probably have a better reputation for that than I deserve. However, I am always trying to set an example. You cannot control what has happened and you need to focus on what you can control.
The clothes thing: you are listed annually as one of the best-dressed coaches in basketball. How did this start?
I really do not know how it got started. If I have to get dressed, I may as well get dressed nicely. Trust me, I would much rather coach a game in shorts, a t-shirt and flip-flops.