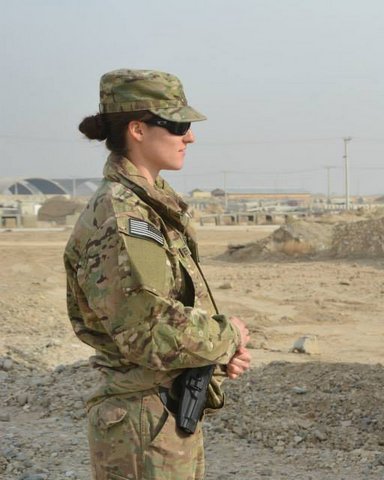 Each year, the Bucknell University Alumni Association creates a special edition of The Bucknellian newspaper exclusively for Reunion Weekend.  All alumni celebrating their reunion year are invited to share stories and reflections of their Bucknell experience and where it's taken them today.  This year, 21 alumni authors volunteered their time and memories to write an article for the 2018 Reunion edition. We're pleased to bring you a sampling of articles in this four-part series.
Like father, like daughter: An ROTC story
By Bill Meister, Class of 1958
During my senior year, I was a member of the Army ROTC and I was on the regimental staff with the rank of Major. My principal duty as S-2 was writing articles for each edition of The Bucknellian, keeping the campus community aware of what was going on in the Corps of Cadets.
In those days, every male student who entered Bucknell as a freshman or sophomore was automatically enrolled in ROTC, unless they were conscientious objectors or military veterans. I knew none of the former and several of the latter, one of whom was my roommate for a semester. Once those male students neared the end of their sophomore year, those who were doing well academically and militarily were offered the opportunity to enter the junior/senior year of ROTC, and the privilege of becoming army officers.
Not all took advantage of this opportunity, but many knew that if their number came up in the draft, they would end up going into the service as a private! In the summer between junior and senior years, cadets like me had to attend a six-week summer encampment where we lived on a military base, engaged in maneuvers, stood guard duty, actually fired weapons, and most importantly, were directly exposed by demonstrations to the various branches of the active duty army.
ROTC students who ranked high academically became DMGs (Distinguished Military Graduates), which meant commissioning as a Regular Army Officer, receiving first choice in Branch, and generally getting first choice in posting upon completion of the Basic Officers Course. DMGS also had to serve a minimum of three years active duty and five years in the Reserves.
Other ROTC graduates became Reserve officers who generally served six months active duty and then seven and a half years in the Reserves. In 1958, since we were not at war, the choices were relatively benign. As a DMG I chose Artillery, as a Branch, opted to attend the Airborne and Ranger Schools, and was assigned to the fourth Armored Division in Germany.
Let me briefly contrast my Army ROTC experiences with those of my youngest daughter, Ashley, who graduated from McDaniel College in 2013. There were no women in my Army at all, except for nurses, who were officers, and a few Women's Army Corps (WACs), who generally served as typists, etc. In her junior year of high school, Ashley suddenly showed an interest in becoming an ROTC Cadet in college! I arranged with the Bucknell ROTC department for her to meet with some cadets who had recently been commissioned and she was very impressed by them and the ROTC concept as a whole.
As a result, Ashley competed for, and was awarded a national, competitive ROTC scholarship which paid for her tuition, books, and gave her a monthly stipend while she attended class at McDaniel College in Maryland. Her ROTC classes were much more serious than those of my day, and there were frequent weekend drills, in addition to physical training and an intense exercise regimen. Women are now able to be officers in most every Army Branch, not just as nurses!
Ashley graduated with a BA in business and accounting, and was commissioned as a 2Lt. in the Maryland National Guard. After her basic officers course, she was assigned as a Helicopter Repair Battalion at Aberdeen Proving Grounds, Maryland. Her unit was soon assigned to Combat Duty in Afghanistan. Ashley had an independent command for one year at the Kandahar air force base, during which she was promoted to 1Lt. In the course of her duty, during which she was often under fire, she was awarded the Bronze Star and two Army commendation medals, among other honors. Upon her return to the United States, she worked as a full time accountant for the Maryland Army National Guard and was chosen by the Commanding General of the Maryland Army National Guard as his Aide de Camp.
Now promoted to Captain, Ashley has accompanied her husband, an active duty army captain, to Ft. Sill, Okla. She serves as ammunition officer for a field artillery battalion in the Oklahoma National Guard. Women have come a long way since 1958's Army, and I am proud that my ROTC experience at Bucknell helped to show the way to my youngest daughter, 55 years later!