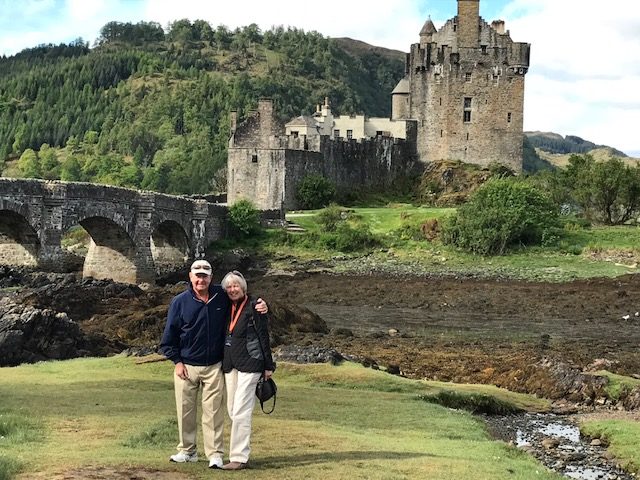 From Homecoming to Reunion weekend, local Regional Clubs to the Bucknell Professional Network, the University works to create a wide-range of engaging experiences where alums can connect and create lasting memories with one another both on and off campus, in the United States and abroad!
One of those exciting opportunities is the Bucknell Travel Program, which offers meticulously planned, worldwide vacation experiences to members of the Bucknell family, including alumni, parents and friends. These tours provide a great way for travelers to learn about new cultures and stay connected with other Bucknellians.
On one recent trip, a small group of Bucknellians set sail across the English Channel and cruised the waters of the Irish and Celtic Seas, aboard the exclusively chartered, five-star, small ship M.S. LE BORÉAL. The vessel featured 110 guest rooms and allowed passengers to access some ports inaccessible to larger vessels, through France, Ireland, Wales and Scotland.
Sue Sinclaire '66 and her husband Ted attended the trip. We spoke to them in a recent phone interview about their experience. Below is an edited version of that conversation.
Sue, how did you learn about this trip?
My husband and I are retired now so we mostly travel for leisure. I had been receiving the [Alumni Travel Program] brochures for years, but because I don't like to fly, I'd toss most of the mailings away. But this one caught my eye. Ted's of Scottish background and he's wanted to visit Scotland for years. This was the perfect trip for my husband. So, even though I hadn't flown in over twenty-two years, I knew we had to go on this trip. So I said "that's it, we're going," and we did! It was an early 50th anniversary trip for us.
Ted, do you consider yourself an experienced traveler?
We're not the most experienced travelers, actually. We needed someone to take us by the hand and lead us around, and they did a good job of that on this trip. We wouldn't have felt confident enough to do something like this by ourselves.
Sue, tell us about some of the highlights of the trip.
Well, we went early to London by ourselves, and we had a fabulous time there. Then, when it was time to meet up with the group, we took a train to meet the pre-cruise crew and that's where we met up with some of the other Bucknell alumni. There were about ten couples with Bucknell on the trip. Our Bucknell host Megan Shingara was amazing. She made sure everything ran smoothly. One funny thing was that the cruise folks actually spelled Bucknell wrong (laughter). Instead of making a big deal of it, it became the running joke of the trip. The ship was absolutely fantastic – truly a spectacular vessel. I would have to say that Northern Scotland, visiting Eilean Donan Castle, was my favorite part of the trip because it was magical.
Ted, what the highlight of the trip for you?
Well, as my wife mentioned, I have Scottish heritage and Scotland was everything I hoped it would be. But I'm also a veteran, and we had the benefit of David Eisenhower as our tour guide through Normandy. It was very moving – very powerful. We went to the Normandy American Cemetery and Memorial, and to see all of those crosses – something like 9,000 crosses – and then they played taps. It all got to me… It was a very emotional moment that I will never forget.
Sue, would you recommend this trip to other alums?
I would recommend this trip 100%. It's such a great way for alumni to bond. In fact, depending on where the trip was going, I would go again. It was overall fantastic!
For more information on upcoming trips available with the Bucknell Travel program, please visit our website.
-Marissa Calhoun '10