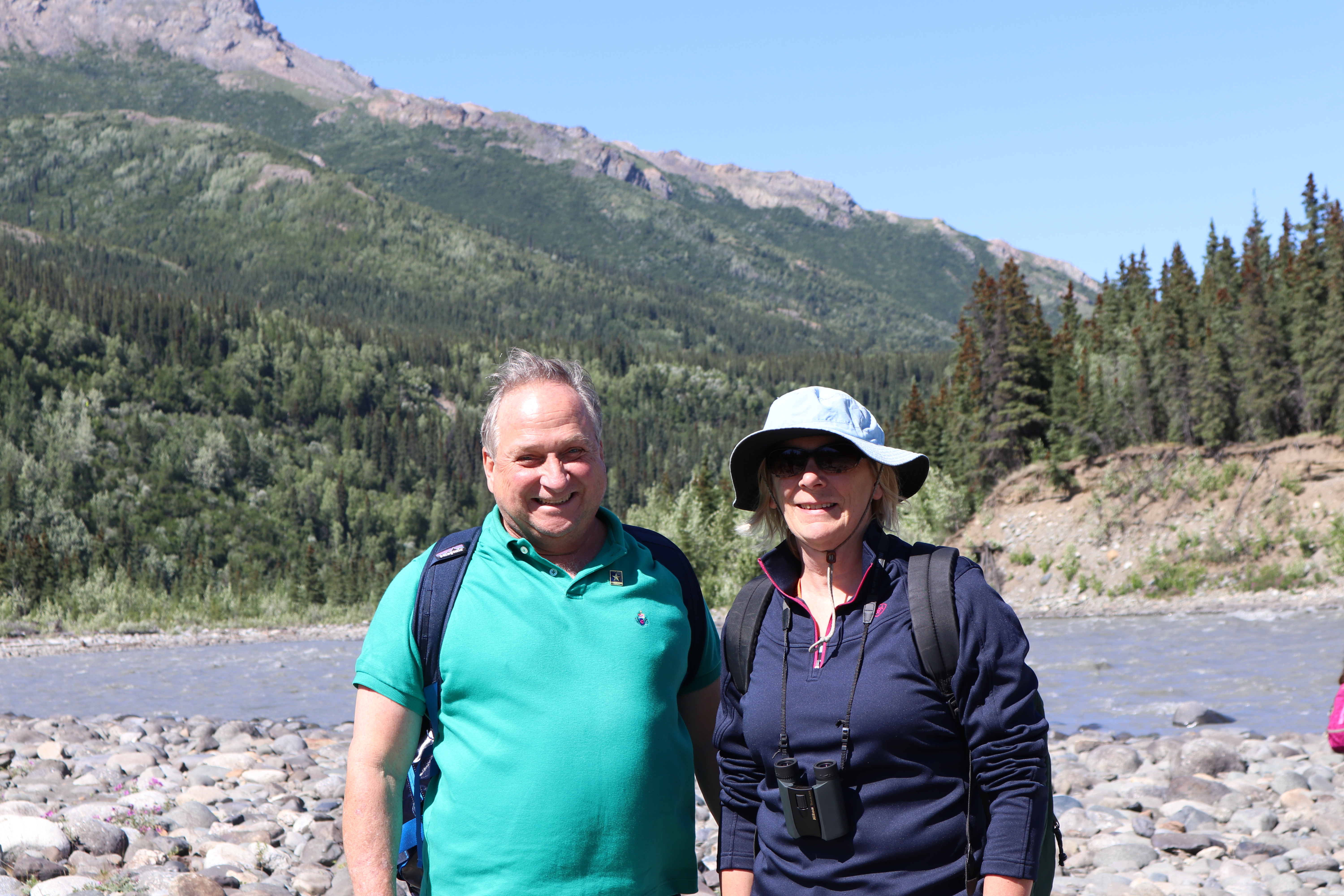 While there are many ways alumni can continue to support and engage with Bucknell, one of the most exciting (and most global) is The Bucknell Travel Program. The Bucknell Travel Program offers Bucknell alumni expertly planned vacation packages to an incredible variety of locations such as Cuba, Iceland, and Tahiti. These tours provide a great way for travelers to learn about new cultures and stay connected with other Bucknellians.
This summer Gail Schneiders (Bucknell '78) and her husband Fredrick Hartman (Lehigh '76) embarked on the Southeast Alaska tour to discover the awesome beauty, abundant wildlife and native cultures of Alaska's Inside Passage from the decks of Admiralty Dream. Some highlights included visiting a salmon hatchery, exploring the waters of Glacier Bay National Park and whale watching. I spoke with Gail and Fred about their amazing adventures and here is what they had to say:
Tell me about the trip!
Gail: We did the Denali National Park pre-tour [in addition to the regular tour]. We rode the Alaska railroad from Fairbanks to Denali then fromDenali to Anchorage.  We saw a lot of country during those rides.  The tundra at Denali was in full bloom when we were there, unfortunately the pictures Fred took did not do it justice. The mountain did not disappoint.  We saw it from several different angles, on different days which is extremely rare.  We saw lots of animals and wildflowers.
There were 19 of us for the first part including the two exposition leaders and about 54 on the boat.  Besides the boat crew, there were two naturalists supplied by the ship and one from the tour agency.  There was one other Bucknell couple, Mary and Richard Hersey ('74).  We had never met them before but had a great time with them.  
Fred: I echo Gail's comments, it was an amazing trip.  We came home with 53 new friends, over 3,000/23GB of pictures. There are so many Alaskas – mountains, tundra, fjords, glaciers, wildlife… all over-the-top beautiful.
The second half of the trip was on the boat; how was that?
Gail: When I told people I was going on a cruise in Alaska I always qualified that it was a small boat – no TV, no internet just a bunch of nice people, scenery and animal life. The food on the ship was very good.  Hot fresh cookies were available every afternoon at around 3 pm.  Because it was a small boat everyone could do all the activities – hiking, kayaking, dib boatriding, visiting with the captain on the bridge.  And as we were only a couple of stories above the water, the marine life was right there in front of us; I could see the seals, otters and eagles sitting on the icebergs calved off the glacier without binoculars. My husband took about 3,000 pictures.
Fred: The folks on the trip were a remarkable mix, we ate meals almost invariably with a new group just to meet more on-board. Can't say more nice things – it was great!
What was your favorite memory from the trip?
Gail: The mostmemorable event was one evening we were cruising between the islands, watching humpback whales dive, the sun was setting and the moon rising.  What a wonderful evening.
How did you find out about this trip?
Gail: I received a brochure from the alumnae association about this trip. We have had Alaska on our bucket list for a while and wanted to do a more intimate small boat tour so this was perfect.
Would you recommend this trip to other Bucknell alumni?
Gail: We had a great trip and would highly recommend it for people looking for a casual tour.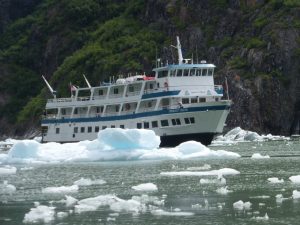 Have you had Alaska on your bucket list? You're in luck; the Bucknell Travel Program is offering the trip once again in the summer of 2018 (August 17 – August 24)! Visit https://www.bucknell.edu/TravelProgram to view additional trips and to learn more.